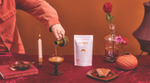 Adaptogenic Blends
We've crafted our tonic blends to offer a simple and delicious way to enjoy the benefits of medicinal mushrooms
and guide you to the best time of day to do so.
While our Blends taste delicious you can rest assured we only use natural ingredients.
No flavouring, sweeteners, fillers or emulsifying agents here:
Dawn Blend tastes like a hot chocolate with a hint of warming spice. 
Day Blend is like a vanilla maca latte. 
Dusk Blend tastes like a hot chocolate with a dash of plum. 
Enjoy 
Our tonic blends are best enjoyed with 2 heaped teaspoons stirred into 200 ml of a warmed milk of choice - we love coconut milk. We have crafted our blends without sweetener to give you the option to sweeten or not. To indulge a little our blends are delicious with coconut sugar, or maple syrup. Our blends can also be added to smoothies, shakes, breakfast bowls, yoghurt, or baked into treats.