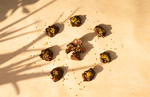 Macadamia and Honey Chocolate Clusters with Cordyceps, Turkey Tail & Bee Pollen
The chocolate season is upon us. Easter can be a time where we let ourselves over-indulge maybe a little more than we wanted to! This quick recipe delivers on decadence while still being a healthier Easter egg alternative with natural sweetness from the honey and an energy and immune buzz from the Cordyceps, Turkey Tail and Bee Pollen.
Easter is looking good!
Key Ingredients and their Benefits:
Cordyceps Medicinal Mushroom
Considered by ancient herbalists to awaken core energy, Cordyceps is a potent adaptogen used to support physical strength and performance, and arouse desire.  
Turkey Tail Medicinal Mushroom
A master healer, Turkey Tail is known as a deeply regenerative adaptogen used to support gut health, strengthen immune defences and whole-body resilience
Bee Pollen
Bee pollen has antioxidant properties and is thought to help relieve inflammation, boost liver health and support the immune system. If you were looking to get your hands on a small amount of bee pollen for the recipe rather than investing in a whole pack Source Bulk Foods is the place to go.
Cacao
Cacao is linked to the neurotransmitters serotonin, dopamine and tryptophan which can support a feeling of well-being, while also being rich in magnesium and antioxidants.  
Macadamia Nuts
Macadamia nuts are indigenous to Australia, though most of the world's supply is derived from Hawaii. If it's possible to get your hands on Australian grown macadamias this is a great option. These creamy nuts are high in healthy fats, vitamins and minerals and they're also loaded with antioxidants and vitamin E.
Ingredients:
¾ cup raw macadamia nuts (organic and Aussie if possible).
¼ cup of honey (organic and Aussie if possible).
1 cup organic cacao powder.
¼ cup organic ghee.
1/3 cup almond milk.
1 tsp Inner Atlas Cordyceps extract powder.
1 tsp Inner Atlas Turkey Tail extract powder.
1 tbsp bee pollen.
Method:
Line a large rectangular tray with baking paper.
Reduce whole macadamia nuts to rough quarters by crushing with a mortar and pestle or blitzing in a food processor.
Add macadamia nuts and honey to a small saucepan and stir on low heat for 1 minute.
Add ghee, almond milk, cacao, Cordyceps and Turkey Tail and stir for a further minute on low heat.
Turn the heat off and continue stirring in the saucepan until fully combined and the mixture has a glossy chocolate texture.
With a teaspoon, portion the mixture into small rounds across the baking tray to create the chocolate clusters.
Sprinkle bee pollen on top of each cluster.
Refrigerate for 2 hours to set.
Enjoy and store refrigerated for up to a week.