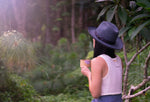 A Deep Dive into Adaptogens with Channel Void
From deadlines to a disagreement with a loved one stress has the ability to not only affect us in the moment but linger in the body impacting our overall health.
Adaptogens can support the body and its general resistance to stress whether that be physical, emotional, environmental, or chemical by helping to balance the functions of vital systems such as the nervous and immune systems. By bringing our body closer to a state of homeostasis we're better able to move through stressful situations as they arise and before they accumulate.
We recently connected with our friends at Channel Void to share our perspective on the role adaptogens can play in helping to balance the challenges of stress and modern living.  With the growing awareness of the importance of self-care for our health and longevity we're excited about the role medicinal mushrooms, as well-known adaptogens, have to play as part of this movement.
"If we're able to notice the changing landscapes that exist inside our body and what's really going on with ourselves, we're able to use tools such as adaptogens to respond to our inner needs, build a reserve of adaptive energy and bring us closer to a place of balance so we can ultimately be primed to feel our best, to do and be our best."

 

~ Tara, Inner Atlas.
Dive into Channel Void's article 'Everything You Need to Know About Adaptogens, Explained,' by Lauren Williamson, and feel free to leave us a note below with any questions or comments. We'd love to hear your thoughts.