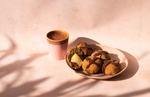 Healthy Hot Cross Buns with Chaga
Easter is approaching and we've had fun whipping up our gluten and grain-free take on hot cross buns with a dash of Chaga. Chaga adds a dose of antioxidants to the recipe and its warm flavour works in synergy with the cinnamon and orange. 
Enjoy this recipe and the delicious luxury of time across the upcoming long weekend.
Makes 6 – 8
Ingredients
2 cups organic almond meal
1/3 cup organic coconut flour
1 tsp baking powder
¼ cup tapioca starch
½ tsp sea salt
1 ½ tsp organic ground cinnamon
Zest of 1 organic orange
1 tsp Inner Atlas Chaga
½ cup organic melted butter, ghee, or coconut oil
¼ cup organic maple syrup
3 free range, organic eggs or egg replacer
1 ½ tsp vanilla extract
¼ cup of organic dark chocolate
Method
Pre-heat oven to 180°C. Line a baking tray with baking paper.
In a bowl or jug lightly whisk together the melted butter, maple syrup, eggs and vanilla extract.
In a separate mixing bowl combine the almond meal, coconut flour, baking powder, tapioca starch, sea salt, cinnamon, orange zest and Chaga.
Add the wet mixture to the dry and mix well.
Take out a small palmful of the mixture and roll into a ball between clean hands. Flatten slightly to create a 'bun' shape and place on the baking tray. Repeat with remaining mixture. You should end up with 6 to 8 buns.
Place the tray in the oven and bake for 20 minutes.
Remove from the oven and allow to cool for 15 – 20 minutes.
Melt the dark chocolate using the double boiler method. Once fully smooth add the melted chocolate to a jug with a pouring lip or a piping bag if you have one. With buns still on the tray, pour or pipe the chocolate slowly over each creating a cross shape.
Allow the dark chocolate to cool and harden, then serve and enjoy with a little butter or your spread of choice.