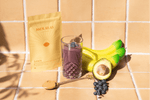 Rise and Shine | Easy Morning Smoothie With Inner Atlas Dawn Blend
Versions of this smoothie have been powering our mornings for years. It's packed full of goodness, delicious, and easy to whip together on busy mornings.
Ingredients
2 tsp Inner Atlas Dawn Blend
2 tbsp organic hemp seeds
2 tbsp organic sunflower seeds
2 tbsp organic pumpkin seeds or pepitas
2 tbsp organic chia seeds
1 tsp organic maca powder
1 tbsp organic cacao powder
1/ 2 – 1 scoop vanilla protein powder
1/2 cup or more organic frozen or fresh blueberries
¼ avocado
½ banana
1 tsp MCT oil or coconut oil
1 cup of water or nut milk of choice
Optional extras
¼ tsp moringa powder
¼ tsp rhodiola powder
Method
Add all ingredients to blender or NutriBullet. Blend for 30 seconds or until fully combined.
You can freeze the other half of the banana to use the next day. 
Enjoy!
Ingredients we love:
Protein Powder | PranaOn Power Plant Protein French Vanilla or Banter Organic Vanilla Whey Protein Isolate
Cacao Powder | Power Super Foods
MCT Oil | Bulletproof Brain Octane Oil