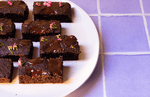 Dreamy Chocolate Hazelnut Reishi Brownies
Is there anything more heavenly than the smell of brownies baking? Our favourite after-dark treat, these dreamy grain-free brownies spiked with queen Reishi will have you slipping into zen-mode in no time. For a vegan recipe swap the eggs for an egg replacer, the butter for coconut butter and go for a vegan dark chocolate like Pico. 
Ingredients
3 organic or biodynamic, free-range eggs
1/2 cup melted grass-fed butter
1/2 cup organic cacao powder
1/3 cup of maple syrup.
2 tsp of vanilla extract
2 teaspoons of Inner Atlas Reishi extract powder or 3 teaspoons of Inner Atlas Dusk Blend.
1/2 tsp baking soda.
2 tsp apple cider vinegar
1 cup hazelnut meal
½ tsp salt
1 block of dark chocolate.
Method
Preheat oven to 170°.
Line a small square tin with baking paper.
In a large bowl add eggs, melted butter, cacao powder, maple syrup, vanilla, Inner Altas Reishi or Dusk Blend, baking soda, and apple cider vinegar. Stir well to combine.
Add hazelnut meal and salt. Stir thoroughly until completely combined.
Break the dark chocolate block into pieces, folding 3/4 into the mixture.
Pour into lined tin and layer the remaining broken dark chocolate pieces across the top.
Bake for 20 - 25 minutes. 
Remove from the oven. Allow to cool before slicing.
Enjoy with someone you love.
Ingredients we love:
Hazelnut Meal Flour | The Source Bulk Foods or Naked Foods.
Grass-Fed Ghee | Sol Organics.
Cacao Powder | Power Super Foods.
Dark Chocolate | Pico Super Dark, Alter Eco Classic Blackout, Green and Black's Organic Dark Chocolate 85% Cocoa.