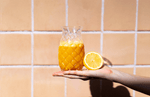 Morning Turmeric, Cordyceps & Apple Cider Vinegar | Immune & Detox Elixir
This tonic juice is liquid sunshine.
Spicy and energising, its combination of ingredients unite to support digestion, detox, inflammation and immunity. As we emerge from the festive season and ground in the new year it's the perfect elixir to incorporate into your morning as we re-establish our daily rituals for the year ahead.
Turmeric is a strong antioxidant with liver detoxifying and anti-inflammatory effects.
Cordyceps promotes cellular energy and immune system support.
Ginger stimulates digestion and aids in the proper absorption of nutrients from food.
Apple Cider Vinegar naturally balances pH and blood sugar levels and acts as a probiotic.
Lemon is highly alkalising and nourishes the body with its high vitamin and mineral content.
Cayenne Pepper boosts the metabolism and provides inflammation support.
Ingredients:
1 cup cool spring water
3cm x 3cm knob of organic ginger – peeled
½ tsp organic turmeric powder or 4cm x 1cm piece of raw turmeric
¼ tsp Inner Atlas Cordyceps
1 tbsp apple cider vinegar
Juice ½ organic lemon
Pinch cayenne pepper
Squeeze of organic orange juice to taste
Method:
It's as simple as adding all ingredients to a high-powered blender or NutriBullet and blending for 15 seconds.
Enjoy!