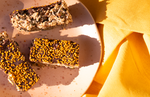 Recipe ~ Seeded Snack Bars with Cordyceps Medicinal Mushroom
We're always in search of nourishing snacks to keep us fuelled and fulfilled throughout the day and our Seeded Snack Bars with Cordyceps medicinal mushroom is one of our favourites.
Believe us when we say these bars are not only deliciously energising but seriously filling. They're packed with a powerhouse of essential vitamins, minerals, and healthy fats. We've also added a touch of sweetness with the dark chocolate, maple syrup and bee pollen.  
These nourishing snack bars are taken to the next level with the addition of Cordyceps. Cordyceps is our mushie of choice for this healthy snack due to its energy-enhancing potential. Cordyceps has been revered for centuries for its ability to support vitality and energy reserves, and in more recent times it has become popular as a supplement to support athletic performance. 
The preparation of this recipe is a no-bake breeze. And after a quick stint in the refrigerator, they're ready to be enjoyed. Simply slice them into little logs, and you'll have a week's worth of grab-and-go snacks that will keep you satiated and energised.
Ingredients:
1 cup sunflower seeds
1 cup pumpkin seeds
½ cup chia seeds
½ cup linseeds
2 cups shredded coconut
2 cups ground hazelnut
1 tbsp Inner Atlas Cordyceps extract
1 tbsp Vanilla extract
¾ cup coconut oil
¼ cup maple syrup
200 g dark chocolate – 75% or greater
¼ cup bee pollen
Ingredient Notes:
For all ingredients we aim for organic when available. Our Cordyceps extract is organic so no worries there!
For the sunflower seeds, pumpkin seeds, and linseeds we source activated.
We also opt for pumpkin seeds rather than pepitas as pumpkin seeds contain roughly double the fibre of pepitas.
Method:
Line a small rectangular baking tray with baking paper and set aside.
Add all dry ingredients to a large mixing bowl (sunflower seeds, pumpkin seeds, chia seeds, linseeds, shredded coconut, ground hazelnut, Cordyceps extract) and mix well to combine. 
Add vanilla extract and maple syrup to dry mixture.
Melt coconut oil and add to dry mixture. Stir coconut oil through dry mixture until thoroughly combined.
Pour mixture into lined baking tray and spread evenly across the base with a spatula or spoon.
Gently melt dark chocolate in a saucepan stove top or in a ceramic pouring jug in the microwave. Pour melted chocolate over the mixture in the baking tray. Spread the chocolate out evenly with a spatula or spoon working quickly before the chocolate begins to thicken.
Sprinkle the bee pollen evenly across the top of the chocolate.
Transfer to the refrigerator to set for at least 3 hours.
When it comes time to serve slice into bars and store refrigerated for up to a week.
Highly potent, containing greater than 30% beta-D-glucans.
Certified USDA & EU Organic.
Fruiting body only – 100% real mushrooms with no added fillers or mycelium.
Lab-tested for purity.
Packed with love in Australia.