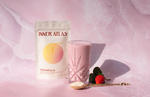 Strawberry, Tremella & Hemp Skin Support Smoothie
This plant-based smoothie recipe delivers creamy strawberry milkshake vibes with a bunch of benefits for your skin.
Tremella is called the beauty-shroom for good reason. Brimming with antioxidants, this sweet-tasting mushie is considered to support a glowing complexion and enhance skin hydration, moisturising the skin from inside out. Tremella also contains antioxidant compounds that have been demonstrated to increases SOD (superoxide dismutase) which protect the skin from free radicals. By helping to generate SOD Tremella can act as a regenerative anti-inflammatory for the skin, maintaining the lipid and moisture barrier.
Strawberries are loaded with vitamin C and a powerful range of antioxidants including anthocyanins (which give them their bright red pigment) and the anti-inflammatory polyphenol quercetin. Leaving the tops on the fresh strawberries might seem a little unusual but the leaves contain tannins that bind to other foods and help with digestion.
Hemp seeds are a great source of omega 3 fatty acids such as alpha-linolenic acid which can help calm stressed skin and promote a soft, supple complexion. They're also high in fibre to support digestion.
Look out for a good quality coconut yoghurt with no added sugar, we love Vanilla Bean CoYo, which contains a healthy dose of pre and probiotics to nourish your gut.
Ingredients
3/4 cup coconut milk
½ cup organic strawberries, fresh or frozen
3 x tbsp coconut yoghurt
½ tsp Inner Atlas Tremella
1 tbsp organic hemp seeds
Method
Wash strawberries if using fresh rather than frozen, with the option to leave the tops on.
Add all ingredients to a NutriBullet or blender and blend for 30 seconds.
Enjoy!