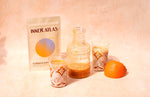 Summer Immune Tonic with Cordyceps
The cooler months often trend heavy with ways to support the immune system, but we love getting creative with ways to nourish our inner resilience at this time of year so that our energy levels are primed to match the vibrancy of the warmer weather.
Sweet, spicy, and perfect for summer, this easy tonic recipe is loaded with immune boosting benefits and is on high rotation for us at the moment!
Grapefruit ~ High in antioxidants and vitamins C & A.
Ginger & Turmeric ~ Strong antioxidant and anti-inflammatory effects
Cordyceps ~ Promotes cellular energy and strengthens immune system response
Ingredients:
2 x whole grapefruit juiced
1 x knob of ginger (peeled & sliced)
1 x knob of turmeric (peeled & sliced)
½ to 1 tsp of Inner Atlas Cordyceps extract
Method:
Add grapefruit juice, sliced ginger, sliced turmeric and Cordyceps to a high-speed blender. Blend for 30 seconds and serve leaving in any pulp from the ginger and turmeric.
Enjoy!
Serves 2