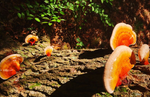 Why we use Wood-Grown vs Grain-Grown Medicinal Mushrooms
What separates medicinal mushrooms from other categories of mushrooms like psychedelic, culinary or poisonous shrooms is that in the wild they're predominantly found growing on wood or trees as opposed to springing from the ground. 
Medicinal mushrooms have evolved to grow on wood, and across thousands of years, ancient cultures have worked with the fruiting bodies of wood-grown medicinal mushrooms found in the wild. This is a tradition that we follow at Inner Atlas. 
Wild-Harvested and Semi-Wild-Cultivated Mushrooms
All of our mushies (with the exception of Cordyceps which in the wild grows from insects hence why we cultivate indoors, with no insects involved!) are sustainably wild-harvested or semi-wild cultivated.
Our Chaga is sustainably wild-harvested from birch trees in Siberia, Russia. In the wild, Chaga is found growing in a symbiotic relationship with birch trees in cold regions such as Siberia, Northern Canada, Alaska and some northern parts of the United States. As it grows, Chaga harnesses the life force of the tree. The growth feeds on the nutrients and compounds found in the birch tree, predigesting the birch's nutrients, concentrating them in a form that when extracted, is more readily available to humans.  
The remainder of our medicinal mushrooms such as Reishi, Lion's Mane, Turkey Tail and Tremella are semi-wild cultivated meaning that they're grown on logs, out in the open air exposed to the natural elements; the sun, wind and rain. Exposure to the natural environment adds to the quality of mushrooms grown in this way, as they have to prove strong and resilient enough to survive in the wild, growing rich in the compounds that act as their natural defence mechanisms. These compounds such as beta-d-glucans, sterols and triterpenes to name a few, are the same compounds that are medicinally beneficial to us.
Fun fact, we share somewhere between 40% to 50% of our DNA with fungi, which is why a lot of the defences certain medicinal mushrooms use in nature to protect themselves can be utilised for our own benefit. 
The Benefits of Wood-Grown Medicinal Mushrooms 
What we eat and what we put into our bodies affects our vitality and how we show up in the world and it's the same for medicinal mushrooms. What they grow on, and what they feed on is imperative to their quality and the active compounds or phytochemicals they will ultimately possess.
The practice of working with wood-grown versus grain-grown mushrooms is so key to what we do as it produces potent extracts, which we validate by taking the extra step of testing our mushies for the presence of a beta-d-glucan (active compound) level of greater than 30 %.
Beta-D-glucans are known biological response modifiers, which refers to the ability to up-regulate and down-regulate the response of biological systems[1].
It is the beta-D-glucan content and specific beta-D-glucan architecture that makes a mushroom medicinal. The architecture of beta-D-glucans vary slightly from mushroom to mushroom, which gives each mushie its own set of benefits supported by the presence of compounds like triterpenes, antioxidants, prebiotics, proteins, polyphenols, and digestive enzymes which again vary across each individual medicinal mushroom type.
As biological response modifiers, beta-D-glucans are famed as being one of the few identified substances that can boost the immune system without pushing it to overreact. This is just one of their benefits. A 2018[2] study noted that the beta-D-glucans found in mushrooms were attracting a great deal of attention due to their range of health benefits including being immunomodulatory, cardioprotective, hepaprotective, antioxidant and antimicrobial.
On the other hand, grain-grown medicinal mushrooms or mycelium-based products are drawing their nutrients from the starchy substrate they are grown on and contain residual starch that isn't filtered out during processing. This is because the mycelium is embedded in the rice and grain and is impossible to separate, meaning the rice and grain substrate ends up in the final product and any active compounds that may have been found in the mushroom / mycelium are diluted by being mixed in with the substrate. The reality of these grain-grown products is that they're faster and far less costly to produce.
Inner Atlas Medicinal Mushrooms
We've worked hard to bring you what we believe are the highest quality medicinal mushrooms available in Australia. Mushrooms you can feel. Each of our extracts contains greater than 30% beta-D-glucans which is more than other medicinal mushroom products you may have come across, so you can be confident your Inner Atlas mushies are both active and potent and delivering the benefits that nature intended.
References:
[1] https://www.researchgate.net/publication/301922414_Measurement_of_b-Glucan_in_Mushrooms_and_Mycelial_Products
[2] https://pubmed.ncbi.nlm.nih.gov/19275682/
References:
[1] https://www.researchgate.net/publication/301922414_Measurement_of_b-Glucan_in_Mushrooms_and_Mycelial_Products
[2] https://pubmed.ncbi.nlm.nih.gov/19275682/