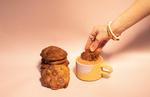 Choc Chip Cookies Recipe with Chaga & Turkey Tail
It's comfort food weather and this grain-free chocolate chunk cookie recipe spiked with Chaga and Turkey Tail hits the spot.
The deep flavours of Chaga and Turkey Tail provide a delicious accent to the chocolate and most importantly work together to promote whole-body resilience and strengthen immune defences.
For the dark chocolate, we like to use 75% to 90%.
We hope you enjoy them as much as we do!
Ingredients 
1 ¼ cup almond flour
¾ cup tapioca flour
2 tsp Inner Atlas Chaga extract
2 tsp Inner Atlas Turkey Tail extract
2 tsp Vanilla extract
¼ tsp baking powder
2 pinches of sea salt
1/3 cup butter, ghee or coconut oil
1/3 cup maple syrup
1 cup of dark chocolate chips (or dark chocolate block chopped into chunks)
Method
Pre heat fan forced oven to 180°C.
Line a baking tray with baking paper.
In a large mixing bowl combine the dry ingredients (with the exception of the chocolate) and mix well; almond flour, tapioca flour, Chaga extract, Turkey Tail extract, baking powder and sea salt. 
Add the wet ingredients; vanilla extract, maple syrup and melted butter, ghee or coconut oil.
Mix well with a wooden spoon or spatula to form a wet dough.
Add in the chocolate chips or chunks and stir until they're evenly distributed throughout the dough.
Using a tablespoon, portion the dough across the lined baking tray and flatten slightly to create cookie rounds.
Bake for 20 minutes or until the cookies are firm in the middle.
Store in an air-tight container for up to 7 days.
Enjoy!