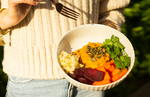 Turmeric Rice Porridge Recipe with Cordyceps & Turkey Tail Medicinal Mushrooms
Energetically warming and moistening foods are key to nourishing our inner resilience across the cooler months and our turmeric rice porridge recipe with Cordyceps, Turkey Tail and ginger is no exception. It's similar to a traditional congee but a little thicker and without the overnight cooking time and offers a nourishing way to assimilate the healing properties of the mushies and spices.
We've topped the porridge with roasted carrot, beetroot, coriander, pepitas and some seaweed kraut but you can mix and match with whatever you have in your fridge or pantry.
Cordyceps
Cordyceps is an energetically warming medicinal mushroom and has traditionally been revered as a life-enhancing and anti-ageing herb. As a potent adaptogen, Cordyceps is known to promote cellular energy and strengthen the immune system.
Turkey Tail
We describe Turkey Tail as a master healer. Known as a deeply regenerative adaptogen, used to strengthen immune defences and whole-body resilience we find ourselves reaching for Turkey Tail as the cooler months approach.
Turmeric
Turmeric has been used in traditional Ayurvedic and Chinese Medicines to aid digestion and support the liver. Today it's also widely valued for its strong anti-inflammatory properties.
Ginger
We love ginger not only for its flavour but for its warming and invigorating properties. Ginger is widely used to calm the digestive system and for its anti-inflammatory properties.
Cumin
In Sanskrit cumin is known as jira 'that which helps digestion.' Cumin also contains an array of flavonoids which work like antioxidants in the body.
Ingredients ~ Rice Porridge
1 cup white rice (jasmine or basmati work well)
1 tsp Cordyceps
1 tsp Turkey Tail
4 tsp turmeric
2 tbsp grated ginger
1 tsp cumin seeds
5 cups of vegetable broth or water
Additional Ingredients 
Roasted carrot
Roasted beetroot
Coriander
Pepitas, flax seed or sunflower seeds
Fermented kraut
Method
Rinse the rice and add it to a pot on the stove.
Add the broth or water, bring to boil and then turn down the heat to a gentle simmer. Add Cordyceps, Turkey Tail, turmeric, ginger and cumin seeds and stir to fully combine.
Cover the pot and simmer for 30 to 40 minutes, stirring occasionally.
Remove from heat. Portion into bowls and enjoy with a mix of your favourite veggies, seeds and herbs.
Serves 4