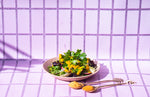 Lion's Mane, Cordyceps, Ginger & Carrot Salad Dressing
We're holding on the last of the warmer months with this vibrant dressing. Combining Lion's Mane, Cordyceps, Ginger and Carrot it's simple to whip up and takes any leafy green salad or raw veggies to the next level. Warming and slightly sweet this delicious dressing aids digestion, is loaded with antioxidants and supports immunity with the added medicinal mushrooms.
Ingredients:
1 organic carrot diced (about 1 ½ cups)
1 knob organic fresh ginger diced (about ¼ cup)
¼ cup organic apple cider vinegar
1 tbsp organic maple syrup  
4 tbsp organic extra-virgin olive oil
4 tbsp filtered water
Generous pinch sea salt
2 tsp Inner Atlas Lion's Mane
2 tsp Inner Atlas Cordyceps
Method:
Place all ingredients in a blender or food processor.
Blend for 1.5 minutes or until smooth.
Dress your salad or raw veggies and store refrigerated in an airtight jar for up to 4 days.
Enjoy!