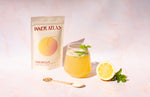 Recipe ~ Tremella & Aloe Lemonade Glow Tonic
This is one levelled-up lemonade set to have you sparkling from the inside out. External radiance is often a reflection of our internal harmony. Looking at the notion of beauty through the lens of whole-body health, medicinal mushrooms are an obvious ally with Tremella top of the list when it comes to getting a glow on.
Known as the 'beauty shroom' Tremella is brimming with antioxidants and is considered to support a glowing complexion and enhance skin hydration with a capacity to hold 5 times more water than the famed hyaluronic acid, moisturising the skin from the inside out. 
The good news doesn't stop there. With its softly sweet, malty flavour, Tremella is also delicious. So much so that you'll often catch us eating it directly off the spoon. But it also means it's an incredibly versatile shroom to weave into tonics or any treat or meal you desire.
It's the star of this beauty tonic combined with lemon juice for a collagen-supporting vitamin C boost and to stimulate liver function and aloe vera juice which is deeply hydrating and packed with polyphenols to calm visible signs of inflammation like breakouts.
Ingredients:
Juice of 1 small lemon
50 ml aloe vera juice
1 tsp Inner Atlas Tremella extract
Mint or lemon balm leaves
Ice cubes
Sparkling Water
Method: 
Juice a small lemon and add to your glass or vessel.
Add aloe vera juice.
Add Tremella extract and stir vigorously to dissolve.
Wash a few lemon balm or mint leaves and add to the liquid, muddling with a spoon to release some of the flavour.
Add ice cubes and top up with sparkling water. 
Enjoy!
Additional notes:
Aloe Vera Juice
Aloe vera juice can be found in most health food stores, pharmacies or independent supermarkets. Or to extract the juice from an aloe vera plant cut a large aloe vera leaf in half. Carefully remove the outer skin with a sharp knife. Rinse the inner leaf or pulp under water and place in a blender with some water added to create more of a liquid consistency. Blend and strain to remove any excess pulp.
Lemon Balm & Mint
We've included herbs in this tonic to add a little spice to the flavour. Lemon balm is part of the mint family and either lemon balm or mint can be used interchangeably depending on what you have access to!