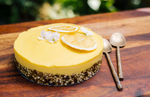 Recipe ~ Steady Spirit Mango Tart
We recently collaborated with the incredible Jessica Johnsson, health coach and plant-based culinary chef, in the creation of her ebook ELEVATE.
ELEVATE is an irresistible collection of simple and delicious everyday recipes powered by medicinal mushrooms, providing loads of inspiration for you to get creative with your mushies over the summer months.
This heavenly mango tart infused with Inner Atlas Reishi is just one of the recipes from the book. It's really easy to make and we cant wait to recreate it to share with our family and friends this festive season.
You can download ELEVATE and all of its recipes here.
Reishi
"Known as the 'mushroom of immortality' reishi is a potent adaptogen used for thousands of years by traditional herbalists to support the body's innate ability to handle stress, calming body and mind while strengthening immunity."
Ingredients
For the crust
200 g buckwheat
100 g dates
1 tsp Inner Atlas Reishi
Pinch of Himalayan sea salt
For the Filling
1 large mango
3 tbsp cold-pressed coconut oil
To Assemble
White pansy (or floral decoration of your choice)
Lemon slices
Method
Mix buckwheat, Reishi, dates and salt in a food processor until it sticks together. Add a splash of water if needed.
Press out in an even layer in a springform tin (10 cm diameter).
Add diced mango and coconut oil to a high-speed blender. Blend until the mixture has a smooth and creamy texture. Pour the mango filling over the crust and put in a fridge or freezer until the filling becomes firm (not frozen).
Decorate with flowers and lemon before serving.
Recipe by Jessica Johnsson and stunning photography by Mark Bond.