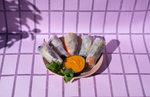 Veggie Rice Paper Rolls with Carrot, Ginger & Mushie Dipping Sauce
With the arrival of Spring, we relish the opportunity to enjoy more light, raw foods and this easy recipe is one of our lunch time favourites. Feel free to get creative with the veggies and make use of whatever you might find in your fridge.
The vibrant dipping sauce is a staple for us for any salad or veggie recipe and can also be used as a dressing – it just goes so well with anything! Warming and slightly sweet the recipe combines Lion's Mane, Cordyceps, ginger and carrot. It not only aids digestion but is loaded with antioxidants and supports immunity and energy with the added medicinal mushrooms.
Ingredients
Veggie Rice Paper Rolls
1 packet organic rice paper sheets
½ avocado
1 small organic carrot grated
1 cup organic salad leaves
Organic coriander
5 tsp hemp seeds
3 tsp black sesame seeds
1 tsp olive oil
Carrot, Ginger, Lion's Mane & Cordyceps Dipping Sauce
1 organic carrot diced (about 1 ½ cups)
1 knob organic fresh ginger diced (about ¼ cup)
¼ cup organic apple cider vinegar
1 tbsp organic maple syrup  
4 tbsp organic extra-virgin olive oil
4 tbsp filtered water
Generous pinch sea salt
2 tsp Inner Atlas Lion's Mane
2 tsp Inner Atlas Cordyceps
Method
Veggie Rice Paper Rolls
Prepare the vegetables by slicing avocado, shredding carrot, washing salad leaves and coriander.
Evenly coat surface of a chopping board with olive oil to prevent the rice paper sheets from sticking.
Fill a mixing bowl with filtered water. Submerge one rice paper sheet in the water for 5 to 10 seconds until fully softened. Remove from bowl, allow any excess water to drip away before placing flat on chopping board. Smooth out any creases.
In the middle of the sheet add seeds, followed by avocado, carrot, coriander and lastly salad leaves.
Over the veggie mixture fold the top of the sheet down and the bottom up. Fold the left side tucking firmly over the veggies and roll from left to right to complete the process. 
Repeat with the remaining rice paper sheets and filling.
Makes 6 rolls.
Dipping Sauce
Place all ingredients in a blender or food processor.
Blend for 1.5 minutes or until smooth.
Add to a small ramekin and store remaining dipping sauce refrigerated in an airtight jar for up to 4 days.
Substitutes
Rice Paper Rolls ~ we use Spiral Foods white rice paper but you can also use brown.
Coriander ~ if you're not a fan of coriander, Thai basil or Vietnamese mint are great substitutes.
Oil ~ olive oil can be substituted for sesame seed, hemp, almond, avocado or macadamia oil. 
Veggies ~ feel free to substitute any of the veggies for what you might have in your fridge!