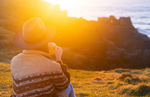 Dawn Blend For Energy, Performance & Immunity
Navigating which medicinal mushroom extract you should go with, what time of day to take them and how best to enjoy them can be a little confusing. We hear you!
We wanted to make this process a little easier, so we crafted our adaptogenic blends to offer a simple and delicious way to enjoy the benefits of medicinal mushrooms and guide you to the best time of day to do so.  
First in our little family of three is Dawn Blend, bringing the energy and immune support for your morning wake-up call. Dawn is a blend of rich Peruvian Cacao and a hint of warming spice, deliciously infused with adaptogenic Cordyceps and Turkey Tail mushrooms, Australian Native Kakadu Plum, and the highest quality all-natural, organic ingredients.
In one nourishing and heavenly cup, Dawn Blend provides the perfect way to start your day with lasting energy especially if you're looking to take a break from caffeine and the crash that often follows.
Read on as we dive deep into Dawn Blend, its ingredients and its benefits.
A Coffee Alternative
Thinking of kicking caffeine? Look no further than Dawn. We enjoy coffee every now and again but steer away from it on a daily basis due to the unwanted side effects. Our cautious approach to coffee comes from the fact that it immediately plunges our bodies into fight or flight mode and comes with a range of unwanted side effects like poor sleep, increased anxiety and high blood pressure.
Which is why when we were first looking to ease off coffee, we turned to adaptogenic medicinal mushrooms to fill the gaps when it came to increased energy and focus, and having an arousing effect on the body without actually being a stimulant. Swapping out your morning coffee for a cup of adaptogenic Dawn Blend will help provide all the energy without the crash of caffeine.
All-Natural Ingredients
Dawn Blend tastes so good you may be fooled into thinking we've snuck some sweeteners or extra flavouring in there! However, you can rest easy knowing that every ingredient in Dawn Blend has been selected with deep intention and has a benefit for your health. There's absolutely no flavouring, sweeteners, fillers or emulsifying agents in sight.
Medicinal Mushrooms Organic Cordyceps & Turkey Tail
We've carefully selected Cordyceps and Turkey Tail for your morning cup of Dawn Blend delivering combined energy, performance and immunity benefits.
Cordyceps is a deep energy awakener. Traditionally, Cordyceps was used to restore vitality, stay healthy and promote longevity nourishing both the yin and the yang energies that reside in the kidneys storing the life essence qi. By nourishing our qi we restore this lifeforce energy that increases our cellular performance, physical resilience and overall health.
Today Cordyceps is coveted to not only restore foundational energy after times of physical exertion and fatigue, but also by athletes and active individuals looking to elevate their physical strength and performance.
Cordyceps is most notable for its energising effects due to its beta-d-glucans helping support blood flow and deliver oxygen to the body on a cellular level fuelling aerobic capacity and stamina.[1] 
We describe Turkey Tail as a master healer. Known as a deeply regenerative adaptogen, used to strengthen immune defences and whole-body resilience.
The beta-d-glucans and triterpenes found in Turkey Tail provide it's immunomodulating potential, activating and inhibiting certain types of immune cells. Particularly the compounds polysaccharide peptide (PSP) and polysaccharide krestin (PSK) abundant in Turkey Tail have been studied for their ability to regenerate white blood cells, and stimulate the creation of macrophages and natural killer (NK) cells, which are all essential for enabling the immune system to ward off pathogens and fight infections when they strike[2].
Turkey Tail is a prebiotic and also boasts an impressive array of antioxidants essential in helping to reduce the degradation of our cells caused by oxidative stress. 
Wild-Harvested Kakadu Plum
We're proud to celebrate Australian Native Kakadu Plum in our Dawn Blend. Kakadu Plum is an antioxidant powerhouse boasting a range of polyphenols and the highest natural Vitamin C levels of any fruit in the world. We work with a supplier that partners with indigenous communities in the Northern Territory and Northern NSW to source our wild-harvested Kakadu Plum.
Organic Peruvian Cacao
Cacao is the purest form of chocolate available on earth and our cacao is both ethically and sustainably sourced from its native homeland Peru. Cacao is a good source of tryptophan which is a dietary precursor to the neurotransmitter serotonin supporting a positive mood and relief from stress, and also anandamide the 'bliss chemical', a neurotransmitter that when released in the brain produces a feeling of euphoria. Cacao is also rich in magnesium, an array of antioxidants and minerals and theobromine which has been shown to aid in the absorption nutrients, helping make sure you're accessing all of the beneficial compounds in your Dawn Blend.
Organic Peruvian Maca
Maca is a rich source of essential vitamins, minerals, amino acids and phytonutrients and known to increase stamina and endurance. Studies have supported the use of maca for increasing libido and elevating mood.
Organic Peruvian Lucuma
Lucuma adds a soft sweetness to our Dawn Blend with its butterscotch-like flavour. Lucuma is also rich in antioxidants, polyphenols, beta carotene, iron, zinc, vitamin B3, protein and calcium.
Organic Ceylon Cinnamon & Organic Ginger
Cinnamon and Ginger add a hint of warming spice to our Dawn Blend, a perfect little kick to get your day started. Cinnamon is rich in antioxidant polyphenols which have an anti-inflammatory effect. As well as being pre-biotic, cinnamon is known to stabilise and modulate blood glucose levels while reducing insulin levels. Ginger's main active compound is gingerol which has both anti-inflammatory and antioxidant effects as well as supporting digestive discomfort.
Organic Madagascan Bourbon Vanilla Bean
We went all out to source our hand-picked vanilla beans from Madagascar. But it's worth it for the sweet, smooth and velvety tones they bring to our Dawn Blend.

How to Make Your Morning Cup of Dawn Blend
Our adaptogenic Dawn Blend is best enjoyed with 2 heaped teaspoons stirred into 200 ml of warmed milk. When it comes to the milk, the choice is up to you. We love coconut milk, but other nut milks like almond and macadamia are also delicious options.  
For the best result, we recommend stirring your blend into the milk in a small saucepan on the stove, over a gentle heat. You can also vigorously stir into your warmed milk in a mug or add milk and your Dawn Blend to an electric blender for 10 seconds.
Or for our keto friends our Dawn Blend also works really well with a small amount of warm water, blended with butter and mct oil.
We've crafted our adaptogenic blends without sweeteners to give you the option to sweeten or not, but they are delicious with a dash of either monk fruit, coconut sugar, maple syrup, or honey.
The end result, is a healthy hot chocolate!
We created Dawn Blend for a morning ritual that truly elevates. Your day is waiting for you to rise and meet it.
Inner Atlas acknowledges the Traditional Custodians of country throughout Australia and their connections to land, sea and community. We pay our respect to their elders past and present and extend that respect to all Aboriginal and Torres Strait Islander peoples today. 
[1] Cordyceps Militaris improves tolerance to high-intensity exercise after acute and chronic supplementation https://www.ncbi.nlm.nih.gov/pmc/articles/PMC5236007/
[2] Immunomodulatory Properties of Coriolus versicolor
https://www.ncbi.nlm.nih.gov/pmc/articles/PMC5592279/