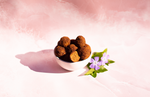 Healthy Doughnut Balls with Lion's Mane & Tremella
Brain-boosting, cinnamon 'sugar' doughnut balls for a super Sunday easy bake. Do we have your attention? :) This keto, gluten-free recipe hits the sweet spot with an almond flour base, healthy fats and brain supporting maca, Lion's Mane and Tremella.
Lion's Mane mushroom has been described as 'nature's nutrient for the neurons. Studies have demonstrated that Lion's Mane may support brain health by stimulating nerve growth factor (NGF).
Rich in vitamin D which helps to support our mood and serotonin levels, Tremella has been shown to potentially aid the development of the neurons within the nervous system, specifically relating to 'energising the brain'.
Maca
Maca is a rich source of essential vitamins, minerals, amino acids and phytonutrients and known to increase stamina and endurance. Studies have also supported the use of maca for elevating mood and mental energy.
Monk Fruit Sweetener
Monk fruit extract is one of our favourite sugar swaps. This natural sweetener has a zero rating on the glycemic index and also boasts impressive antioxidant properties.
Ingredients
1 cup organic almond flour
2 tbsp of organic monk fruit sweetener or coconut sugar as a substitute.
2 tbsp organic maca powder
3/4 tsp baking powder
a pinch of salt
1 tbsp organic cinnamon
1 tsp Inner Atlas Lion's Mane
1 tsp Inner Atlas Tremella
1 organic, free range egg or vegan egg replacer
2 tbsp melted organic coconut oil or ghee
2 tsp organic vanilla essence
For Dusting
2 tbsp melted organic coconut oil or ghee
3 tbsp organic monk fruit or coconut sugar
1 tbsp organic cinnamon
Method
Add all dry doughnut ball ingredients to a mixing bowl. Almond flour, sweetener, maca, baking powder, salt, cinnamon, Lion's Mane, Tremella. Mix well to combine.
Add wet ingredients to the bowl. Egg, oil, vanilla essence and mix thoroughly through the dry ingredients.
Cover the mixing bowl and place in the refrigerator for 10 minutes.
Preheat oven to 180° C.
Line a baking tray with baking paper.
Remove the mixture from the refrigerator after 10 minutes.
Roll small portions of the mixture into balls and place on the baking tray.
Bake for 10 to 15 minutes.
Make the dust mixing the cinnamon and monk fruit or coconut sugar in a small bowl or teacup.
In a separate bowl have your melted ghee or coconut oil to hand.
Remove the doughnut balls from the oven after 10 – 15 minutes and allow to cool.
Coat each doughnut ball in the ghee or coconut oil then roll in the cinnamon 'sugar' dust.
Enjoy!
Ingredient Notes
Monk Fruit sweetener can be a little on the expensive side when purchasing a whole bag from your local health food store and it may not be an ingredient you need to use all the time. We like to get ours from bulk food stores like The Source Bulk Foods or Naked Foods so we can purchase the small amount required for a recipe.