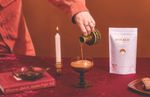 Dusk Blend ~ A Calming Nightcap
Navigating which medicinal mushroom extract you should go with, what time of day to take them and how best to enjoy them can be a little confusing. We hear you!
We wanted to make this process a little easier, so we crafted our adaptogenic blends to offer a simple and delicious way to enjoy the benefits of medicinal mushrooms and guide you to the best time of day to do so.  
Dusk Blend is our cup of calm helping to relax the mind and body and gently ease us into the evening. Dusk is a delicious blend of rich Peruvian cacao and sumptuous Australian Native Davidson Plum, infused with adaptogenic Reishi mushroom and the highest quality all-natural ingredients.
Read on as we dive into Dusk Blend and its benefits for not only relaxation but whole-body radiance and immunity.  
A Calming Nightcap
We're all about evening rituals at Inner Atlas. A strong nightly routine can go a long way to help us wind down and prepare for a good night's rest. Sometimes this is easier said than done with the multitude of distractions that can invade our serenity sanctum from social media and that Netflix series that's got you hooked, to that feeling of needing to finish tasks that may not have been addressed in your day. All of these factors can place us into a state of wakefulness rather than rest and go on to impact the quality of our sleep.
Winding down in the evening involves an element of intention, signalling to your body that the day has passed and it's time to rest.
We created Dusk with your nightly ritual in mind drawing on Reishi mushroom to help take you to zen-mode. The adaptogenic beta-D-glucans and triterpenes in Reishi work to relax the nervous system and ease mental stress, which makes it the perfect medicinal mushroom to be enjoyed in the evening.
All-Natural Ingredients
Our Dusk Blend tastes so dreamy you may think we've snuck some extra ingredients in there to enhance the flavour! But never fear, you can rest easy knowing every ingredient in Dusk has been selected with deep intention and delivers a health outcome. There is absolutely nothing unnecessary included with no flavouring, sweeteners, emulsifying agents or fillers in sight. 
Reishi
As we touched on above, Reishi is Dusk Blend's peaceful warrior. Known as the 'mushroom of immortality', Reishi mushroom is revered for its ability to support a sense of calm while at the same time strengthen immunity and support the body's innate ability to handle stress. 
Reishi's ability to guide the body to a peaceful state of balance is second to none. Most Daoists and monks refer to reishi as a Shen tonic, which loosely translates to a herb that nourishes the spirit.
A famed adaptogen, Reishi helps to support the body against a variety of stressors whether they be psychological, physical or environmental. Reishi's adaptogenic triterpenes and beta-D-glucans help to balance the circulatory system, nervous system and immune system helping to ease mental tension and physical stress in the body[1]. Also acting as a supreme antioxidant against free radicals, Reishi's ganoderic acid can help provide an anti-inflammatory effect, providing further protection against physical stress.
Wild Harvested Davidson Plum
We're proud to celebrate this ruby jewel in our Dusk Blend, Australian Native Davidson Plum. Not only does it have a bright, sumptuous plum-berry flavour, Davidson Plum is a rich source of calcium, Vitamin E and zinc. Vitamin E and zinc are two nutrients required for glowing, youthful-looking skin, and Davidson Plum's antioxidant profile includes anthocyanin, which is known for its strong antioxidant effect. We work with a supplier that partners with indigenous communities in Northern NSW to source our wild-harvested Davidson Plum.
Organic Peruvian Cacao
Cacao is the purest form of chocolate available on earth and our cacao is both ethically and sustainably sourced from its native homeland Peru. Cacao is a good source of tryptophan which is a dietary precursor to the neurotransmitter serotonin supporting a positive mood and relief from stress, and also anandamide the 'bliss chemical', a neurotransmitter that when released in the brain produces a feeling of euphoria. Cacao is also rich in magnesium, an array of antioxidants and minerals, and theobromine which has been shown to aid in the absorption nutrients, helping make sure you're accessing all of the beneficial compounds in your Dusk Blend.
We have been asked whether cacao has a stimulating effect and this is something we looked into extensively before including cacao in our Dusk Blend, with some sources recommending avoiding cacao, cocoa and chocolate in the evening. Cacao actually possesses calming benefits due to its magnesium and tryptophan content and contains less than 1% caffeine (not enough to prevent deep sleep). Theobromine impacts the cardiovascular system (increasing blood flow and lowering blood pressure) different to caffeine which affects the nervous system and can impact sleep. There have been some studies to demonstrate that theobromine can help extend sleep duration[2].
Organic Peruvian Lucuma
Lucuma adds a soft sweetness to our Dusk Blend with its butterscotch-like flavour. Lucuma is also rich in antioxidants, polyphenols, beta carotene, iron, zinc, vitamin B3, protein and calcium.
Organic Madagascan Bourbon Vanilla Bean
We went all out to source our hand-picked vanilla beans from Madagascar. But it's worth it for the sweet, smooth and velvety tones they bring to our Dusk Blend.
How to Make Your Evening Dusk Blend
Our adaptogenic Dusk Blend is best enjoyed with 2 heaped teaspoons stirred into 200 ml of warmed milk. When it comes to the milk, the choice is up to you. We love coconut milk, but other nut milks like almond and macadamia are also delicious options.  
For the best result, we recommend stirring your blend into the milk in a small saucepan on the stove, over a gentle heat. You can also vigorously stir into your warmed milk in a mug or add milk and your Dusk Blend to an electric blender for 10 seconds.
We've crafted our adaptogenic blends without sweeteners to give you the option to sweeten or not, but they are delicious with a dash of either monk fruit, coconut sugar, maple syrup, or honey.
The end result, is a dreamy night time hot chocolate.
We created Dusk Blend to add a true sense of calm to your night time ritual, to soothe the spirit and ease you gently into the evening. We'd love to hear how you're enjoying your Dusk Blend, pop us a note in the comments section below!
Inner Atlas acknowledges the Traditional Custodians of country throughout Australia and their connections to land, sea and community. We pay our respect to their elders past and present and extend that respect to all Aboriginal and Torres Strait Islander peoples today. 
Header Image: Smack Bang Designs & Lucy Alcorn 
References:
[1] https://www.ncbi.nlm.nih.gov/books/NBK92757/
[2] https://pubmed.ncbi.nlm.nih.gov/23339991/