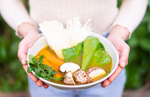 Nourishing Vegetable Broth with Reishi & Turkey Tail
The cooler weather calls us to warm ourselves from the inside out with hearty soups and broths. This warming broth is packed full of nourishing vegetables, loads of flavour, and the immune boosting benefits of garlic, Reishi and Turkey Tail.
We've also added:
Turmeric - strong antioxidant with liver detoxifying and anti-inflammatory effects.
Ginger - stimulates digestion and aids in the proper absorption of nutrients from food.
Apple Cider Vinegar - naturally balances pH and blood sugar levels and acts as a probiotic.
Sea Vegetables – source of omega 3.
Shiitake Mushrooms – source of vitamins and minerals such as vitamin D and selenium.
Coconut Oil or Ghee – healthy fats to help with the absorption of nutrients.
Ingredients
3 litres filtered or spring water
2 tbsp coconut oil or ghee
1 piece ginger, 3cm x 3cm, chopped, skin on
1 head garlic, roughly crushed
1 red onion, quartered, skin on
2 tbsp turmeric powder
Pinch sea salt
1 tsp cracked pepper
2 cups kale or spinach
5 cups mixed vegetables and peelings (like carrot, leek, celery, mushrooms)
1 cup fresh shiitake mushrooms
30 g dry sea vegetables such as arame or wakame
1 tbsp apple cider vinegar
2 tbsp coconut aminos
Bunch coriander
1 tsp Inner Atlas Reishi mushroom extract
1 tsp Inner Atlas Turkey Tail mushroom extract
Method
Add coconut oil or ghee, ginger, garlic, red onion, turmeric, sea salt and pepper to pot and stir over low heat for 3 – 5 minutes to release the flavour.
Add filtered water and all remaining ingredients except for the Reishi and Turkey Tail. Bring to the boil and reduce to a simmer. Place the lid on the pot and leave to simmer for 1 ½ hours.
Strain the liquid into a large bowl and stir in Reishi and Turkey Tail extracts. If you can compost the vegetable remnants.
Serve immediately with vegetables and herbs of your choice such as carrot, Chinese broccoli, bok choy, fresh mushrooms, sea vegetables, and coriander.
Refrigerate or freeze remaining broth.
Makes 6 serves.