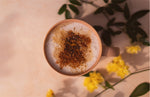 Recipe ~ Dandelion & Turkey Tail Mushroom-cino
This frothy herbal elixir is the perfect swap for any cappuccino craving. The rich flavours of roasted dandelion root, turkey tail mushroom and cacao meld together to create a delicious brew brimming with benefits.
With the arrival of spring, we are tuning into this season of renewal and look to ways to support our liver and kidneys, shedding the stagnation of the cooler months. Dandelion has long been used as a herbal remedy to help cleanse the body and aid in the elimination of toxins and also promote healthy digestion.[1] The dandelion root harmonises with our master healer Turkey Tail which is not only brimming with antioxidants and anti-inflammatory potential but also works as a prebiotic laying the groundwork for a healthy gut microbiome.
Cacao adds a little flavour kick and supports the feel-good vibes of this robust brew with cacao being linked to the neurotransmitters serotonin, dopamine and tryptophan which can support a feeling of wellbeing.
You can find roasted dandelion root in most health food stores and independent supermarkets. You might come across it in a chai spice mix which works well in this recipe too so feel free to get creative!
Ingredients: 
½ tsp Turkey Tail extract
1 tsp Roasted Dandelion Root
1 tsp cacao or Dawn Blend
1 tsp MCT oil
¾ cup water
¾ cup nut milk (we love coconut)
Dash of maple syrup if desired
Method
Add water and roasted dandelion root to a small saucepan on the stove. Bring to a boil and simmer for 2 to 3 minutes. Add nut milk of choice and return to a simmer, then remove from heat.
Using a tea strainer, strain the liquid into a blender separating it from the roasted dandelion root residue. Add Turkey Tail extract, cacao, MCT oil and sweetener if desired.
Blend for 20 seconds and transfer to your favourite mug. Sprinkle a little cacao and Turkey Tail on top and enjoy.
References:
[1] https://www.dymocks.com.au/book/the-gardeners-companion-to-medicinal-plants-by-jason-irving-and-kew-botanic-gardens-and-melanie-jayne-howes-9780711238107