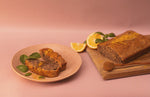 Recipe ~ Lemon, Basil, Hazelnut Loaf with Turkey Tail, & Tremella Maple Glaze
This is the treat I whip up to take to any get-together with friends and family and it never fails to disappoint. Making the most of the end-of-season lemons from my Dad's tree and young spring basil, it seemed like the perfect time to share this recipe with you. 
I love to spice cakes up with herbs not only for their flavour, but for the healing benefit and polyphenol hit, and this loaf acts as a delicious vehicle to get a good dose of mushies in the mix too. We're having a moment with Turkey Tail mushroom and have added it into the base, but any medicinal mushroom extract would work well with this recipe blending with the tartness of the lemon, freshness of the basil and rich base of hazelnut.
For a little bit of extra decadence, we've folded some Tremella mushroom extract into maple syrup to drizzle over the top. Affectionately known as the 'dessert shroom' Tremella is softly sweet making it a perfect pairing for any treat.
What's more, the recipe is grain and gluten-free. We use a little bit of tapioca flour made from the cassava plant's extracted starch.
We're all about treating ourselves and enjoying the bounty of nature's ingredients while supporting our health, and this recipe is brimming with healing benefits:
Turkey Tail
We describe Turkey Tail as a master healer. Known as a deeply regenerative adaptogen, this mushie used to strengthen immune defences, whole-body resilience, nourish the gut and soothe inflammation.
Tremella
Brimming with antioxidants, Tremella has been treasured throughout the Orient for thousands of years considered to support a glowing complexion, enhance skin hydration, invigorate the brain, and replenish vital energy.
Basil
So much more than just a culinary herb, basil has potent anti-inflammatory and antioxidant properties and is also used to boost digestion.
Lemon
Lemon is highly alkalising and nourishes the body with its high vitamin and mineral content. 
Hazelnut
Hazelnuts are deliciously rich in omega-3 content and are packed with polyphenols and antioxidants.
Ingredients
3 biodynamic or free-range eggs, or egg replacement
1 tsp apple cider vinegar
½ cup freshly squeezed lemon juice
2 tsp vanilla extract
¼ cup maple syrup
½ cup extra virgin olive oil
2 ½ cups ground hazelnuts or hazelnut meal
1 tsp Inner Atlas Turkey Tail extract
¾ cup of tapioca flour
½ tsp baking powder
Zest of a lemon – put some aside for topping if desired
¾ cup of fresh basil, roughly chopped or torn 
Tremella & Maple Glaze
¼ cup maple syrup
Squeeze of lemon juice
1 tsp Inner Atlas Tremella mushroom extract
Lemon zest
Method 
Preheat fan forced oven to 180°C. Grease a rectangular baking tin with olive oil and set aside. To a large mixing bowl add eggs and lightly whisk.
Using a zester extract the zest of a lemon by peeling the outside skin. Add the lemon zest to the mixing bowl and then juice the lemon. Add lemon juice to the mixing bowl followed by the remaining wet ingredients, apple cider vinegar, vanilla extract, maple syrup, olive oil and stir until fully combined.
Add all dry ingredients, hazelnut meal, Turkey Tail mushroom extract, tapioca flour and baking powder and mix well working out any lumps that may form from the hazelnut meal.
Lastly, wash and tear fresh basil and fold evenly through the mixture.
Pour mixture into baking tin and bake for roughly 30 minutes.
Prepare the Tremella and maple glaze by adding ¼ cup maple syrup, squeeze of lemon juice, Tremella and any leftover lemon zest to a small pouring jug. Stir to fully combine and dissolve the Tremella extract.
When the loaf is lightly golden brown and springy to the touch in the middle it's fully set and ready to come out of the oven.
Let the loaf cool for 15 minutes before enjoying with those you love.
Tara X